I had the pleasure of attending my Grandma's 100th birthday recently. Pretty amazing stuff living that long I reckon and she's remarkable – still living by herself, although my Mum is there every night to make sure she's ok. But I definitely admire her independence and willingness to live for many years when her body is packing in and causing her pain.
She's had braces on her legs for years, her legs get irritated when she sleeps, her ears and eyes are going, and she can be painfully repetitive… but still she lives on and is in pretty good nick considering. Naturally I had to go to her 100th birthday. I mean how many times do you get to celebrate a centenarian? When I arrived in Geelong I didn't know where to go – Geelong is not my town. I decided to head straight to Grandmas place, thinking my family was there, but it was only Grandma and my Aunt Bernie – an interesting bird in her own right.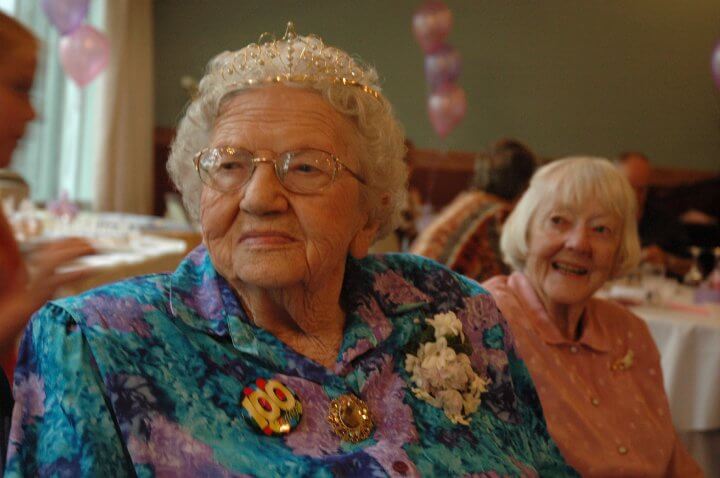 Until this point in my life, I had never been in a room with my Grandma by myself – there were always multitudes around, but it was kind of nice being there for the prep work. Bernie was beautifying Grandma for her special day – putting make up on, a broach and a nice little corsage. I think Grandma also wore the special dress that she bought for her 90th b'day, because according to her, no point buying anything new at 100 – love the practicality!
Anyways, it was time for hair and no matter where I've been in the world, there is a hairspray smell that ALWAYS reminds me of my Grandma – Cedel. So I'm checking out the tin to see if she is still using the same hairspray when I notice it's a different tin. Then I notice that it's Glen 20 antiseptic spray, and I say hey Bernie, you know you're using Glen 20 right? Bernie says no I'm not, then she realises I'm right and guffaws before heading off to get the right hairspray – which incidentally is no longer Cedel.
Grandma, in the meantime, is completely oblivious to what is going on and is soon ready for her big bash, and there isn't any bacteria in sight thanks to Bernie.
I didn't know what to expect when arriving at Grandma's party. It has been more than 15 years since I've seen many of my cousins and I've only heard on the family grapevine what everyone is up to. But it was awesome seeing everyone, all grown up and mature, most with families, some still single, but everyone was cool and there for Grandma's big day. It was a surprisingly pleasant party.
When you turn 100 in a commonwealth country, there are some nice additions. You get recognised by some pretty famous people. For example, there was the Queens letter + photo, the Governor General of Australia (and his missus) letter + photo, as well as the Mayor of Geelong, and some bigwig from Geelong's football team who my grandmother has loved and supported her whole life – I was wrapped they won the last grand final, because who knows if she'll be alive for the next one!
The great grandchildren – getting close to 30 now – all did their bit. Some read the letters, some played their instruments, and the speeches were great. Probably the other funny thing on the day (apart from the Glen 20 incident) was my aunts, Grandma's four daughters. All well into their 60s, including my Mother, they were all committed to giving their Mum a special day but they did not stop going at each other all day!
This is nothing new amongst four very different women and of course, they had my mother in tears (but it's pretty easy to get her in tears) and I have to say it was rather amusing watching my "grown up" aunts. But they all wanted the day to go great and it did.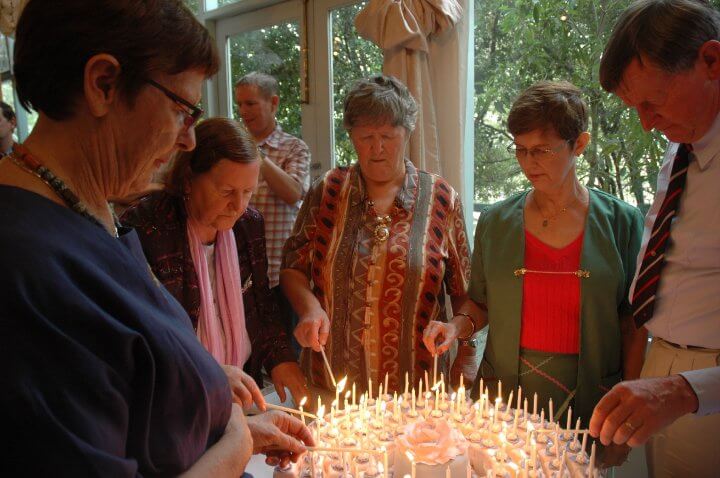 So it's done. I went and enjoyed it, Grandma is 100 and I'm wondering how much longer she has in the world. I know she'll decide when it's time to go. One thing I know for sure, is even though I come from a line of long living women, I sincerely doubt I'll see 100. I'll be happy to go when I can no longer take care of myself I reckon.
Yours, without the bollocks
Andrea