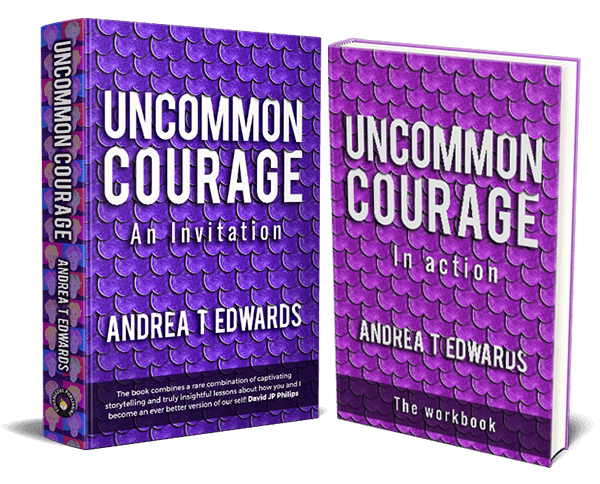 Here's what readers of Uncommon Courage have shared with me - so grateful to everyone who's sending reviews
What readers are saying about Uncommon Courage
So I started reading Uncommon Courage on the Murray River in January and just finished on the banks of Lake Hume today. I loved it honey, I had so many aha moments. I laughed, cried and took so many many #wisdoms into my life. I have a bit of work to do. I love your 'you' approach, insight and empathy. It's definitely not a read that gets put back on the shelf, and I know I'll be drawing lots more as I focus on different Wisdoms and reflections. Well done my friend, a fabulous read.
The Book Whisperer recommends Uncommon Courage

The Book Whisperer Recommends an Unusual Self-Help Book - Uncommon Courage: An Invitation by Andrea T. Edwards has received a great deal of praise. After reading much of the book, but not all of it, I am inclined to agree with those who have found the book helpful, useful, and thought-provoking—and yes, even funny. Uncommon Courage is not the kind of book I read often. I chose it because of words like passionate, inspirational, powerful, and honesty others have used to describe it.

Given the state of the world today and the past two years of continuing angst over COVID and other things we cannot control, I felt that Uncommon Courage offered me a respite—perhaps even a road map of sorts—from fear and a way to regain optimism.
Five Star review from the Book Commentary

Andrea takes readers on an entirely new journey of learning through her personal experiences while keeping a perfectly balanced pace. The book will remind readers of a bonfire party where the wise would share their stories and wisdom with those who cared. From leaders to students and learners, this book will come along as a gem, one filled with manifold lessons and insights into life. Above all, it gives readers the tools they need to take the lead in their lives. Written in gorgeous prose and in a voice that is both compassionate and captivating, Uncommon Courage invites readers into frank and meaningful conversions with themselves, their culture, and those around them.
I found in "Uncommon Courage" a book with such a positive vibe that it was hard for me to put down once I started reading it.

It offers us 108 interlinking strategies to start thinking differently and instill once and for all optimism in our own minds and lives.

The narrative becomes inviting and the invitation includes being courageous enough to live in this world every single day. It is a practical book which one of the main aims is inner transformation and reflection.

After reading it, I realized it was not that difficult to think and reflect upon my current life and visualize myself in the future and understand that I am not late anywhere, I am right in the place and time I should be right now.
There are countless numbers of self-help books available on the market.

Sometimes it can even seem as though there are more books than problems that exist in the human experience. However, author Andrea T. Edwards in her book Uncommon Courage: An Invitation, offers a different type of solution to the foibles of existence, and one that definitely strikes a chord.

Drawing from her globetrotting experience, Andrea organizes the knowledge she has gained into 7 different kinds of wisdom. She dedicates subsequent chapters to each topic and provides helpful self-analysis questions and notes throughout. She also provides a free workbook which you can download to enable you to really delve deep and get the most that one can out of her writing.

I found the book to be very encouraging and even if not everything mentioned was applicable to my own personal situation, I feel that there is absolutely something in the book for everyone. For anyone wanting an encouraging and adaptable way to get one's life to a better state, I would definitely recommend reading this book.
Practical advice and insights for everybody looking for courage to step outside their comfort zone

Climate Courage, Social Leadership, Building your own Narrative, having courage to be whoever you want to be. Andrea Edwards authenticity shines through this adventure guide to being uncommonly courageous, stepping outside your comfort zone and diving into the unknown.

Andrea's practical steps to simple ways to take the leap, push yourself to be ok with who you are and using your voice for good, is a guide we can all reference any time we experience self-doubt or the inner voice which so often holds us back.

Having walked the walk, Andrea shares her own uncommon courageous experiences, leaping into the unknown on multiple occasions and surfacing with a stronger, happier family unit taking on the world.

With an accompanying workbook to help you explore what resonates most for your adventure, anyone can utilise this practical guide to keep reinventing and avoid settling for the status quo.
Brilliant, actionable discovery

It is not often that you find such a straightforward, easily followed guide for life. Uncommon courage gave me an insight into myself that I didn't realise I was looking for, and it is written in an easy to understand and hugely personal way. It really is a delight to read. Andrea's real life stories have me feeling like I am a part of her journey, and in a world that feels more impersonal each day, that is a wonderful experience. I would highly recommend.
Professional An Invitation You'll Want to Accept: Find Your "Uncommon Courage" | BookTrib

The first thing I thought when I picked up Uncommon Courage by global award-winning B2B communications professional and certified speaker Andrea T Edwards was, "what a BIG book!" But the subtitle is "An Invitation" so how can you pass that up? And then cracking open the book, it looked so inviting just as the subtitle said … friendly font, boxes with special sections, graphics, drawings and "space." It truly did look inviting!

The back of the book says, "Uncommon Courage is an invitation to be your courageous best self every day. It's an antidote to the overwhelm, fear and rage rolling around the world. It brings you a path to contentment, peace and happiness." Well, I'm in. Let's get started!

AN UNCOMMONLY GOOD BOOK ABOUT EMBRACING LIFE

I have to say that this is a very unique book and well worth its weight (literally). It is not your typical self-help book. It is full of stories and inspiration, and, at the same time, Andrea is like your cheerleader in life. She says that the book came to be from her "50 Wisdoms in 50 Days" videos that she put out during the start of the pandemic. They were messages of encouragement and hope during this difficult time we were all going through; they then became the impetus for this book (with 50 messages blossoming into 108!).

Uncommon Courage is meant to help you embrace life regardless of everything else going on around you. According to Andrea, "once you fully embrace the deeper wisdom of peace, love, and joy, well … you need to embrace them all the time, regardless of external influence, and especially not just when the going is good."

All the messages in the book fit into seven key wisdoms:

Self-awareness Self-empowerment Empower others External influence Social leadership Career thoughts Climate courage The messages include such topics as: Do you have voices in your head? Worry is a waste of time Let people be dicks sometimes Integrity and values Beware the victim mindset You've just got to do you Focus on the best in people Seize your moments

And 100 more!

SOME KEY TAKEAWAYS WE CAN ALL BENEFIT FROM

I learned that 90% of the things we worry about never come to pass, and maybe even 99%, which "means that the only real effect of worry is that it stops us from moving forward." The best thing you can do, then, is to put all that energy spent on worry into focusing on changing the situation. "Worry won't change the situation – but actions will."

Give each other the benefit of the doubt. This is how we make room for grace. "When we don't give the benefit of the doubt, we lock people into being their worst selves, even if it was just momentary," since ultimately, "when you really let the negative emotions go, you are giving a gift to yourself."

Trusting your own council is a strength – not weakness or arrogance. "You take input and advice from those around you and then you draw your own conclusions based on your knowledge, your experience, and your insights" because when it comes right down to it, "The only goal in life is working out who you are."

BRIMMING WITH BOLD, BRAVE BABY STEPS TO SUCCESS

In the afterword, Andrea's husband, Steve (who we feel like we get to know in the book), says that the book is "thought provoking, scary and exciting, all at the same time." He is right about that. Andrea takes us on this journey with her as she "unpacks her 50 years of life experiences recounting amazing and humbling interactions around the world through the lens of her boundless and unquestionable curiosity."

This book is packed full of words of encouragement, inspiration, humor, humility and practical advice that you can actually apply to your own life. As Andrea says, "pick something you can change today and just start." That's it … pure and simple.
My go-to coffee companion. This book, by my beautiful friend Andrea T Edwards, is never out of reach. Full of wisdom but not preachy, sprinkled with beautiful anecdotes and lots of humour, this is a book you never "finish". You keep it to hand, even when you have read it through, and open it up at a random page as you have your morning coffee. It never fails to inspire. A soothing respite from the crazy world we find ourselves in and the nudge we all need to play our part in fixing it.
"Uncommon Courage was a refreshing read providing engaging insights, perspectives and connections of a family that has thrived in a place and time of triumphs and curveballs. The author's journey is relatable, inspiring and simply a wonderful story to tell."
"Uncommon Courage" by Andrea T. Edwards, this precious book reached my hands at a very right moment in my life. I might have had a different view at times (rarely though), yet I was positively absorbed by the writer's perspectives and immensely touched by her raw, genuine, transparent shares/observations from her life's kaleidoscope. Much reflections were triggered. What stood out often is the notion of self-awareness; a gift for growth in my eyes. I also enjoyed the format of the book: short thematic wisdoms, the self-work tools offered after most chapters (+ the workbook ), and the very cool illustrations. I was looking forward to the next chapter like a surprise. And (that one is a first), I loved the look and feel of it; yes, even the texture of the paper pages felt good. Thank You Andrea!
Congratulations to you as an Excellent Author of the Best Book "UNCOMMON COURAGE". The extraordinary contents of this book are filled with relevant words, feelings and motivation, and are most beneficial to young eager students, researchers, academics and sensitive readers. Kudos to you for your diligence and real hard work by bringing out the book in such a rich and praiseworthy format.🍀🌹🍀🌹🍀
Dare to be happy. Andrea Edwards is the author of Uncommon Courage: An invitation, a good self-help book.

As the author says, it has 108 interlinking strategies to shift your thinking, improve your mood, and lighten your heart. It is about courage, bravery and how to find the strength to do things differently.

It is the type of book for people who need a very positive view of life. It is full of tips and advice to improve our life. Although it is very peaceful, sometimes too much for me, I felt that it inspired me to be happy.

I liked it because I think it is sincerely written from the writer's own personal experiences. In my opinion, it can positively impact the lives of many people.
Uncommon Courage is one of the most relevant books of our time. It's relevant not only in content, but in format.

In terms of content, Uncommon Courage gets you thinking more deeply about the topics we all care about, and the scope is wide. It gets you questioning your beliefs and behavior towards everything from diversity, climate, self-respect, purpose, contribution, responsibility, friends, family and community. But the real beauty of the way author, Andrea Edwards, handles these topics is that Uncommon Courage gets you thinking about how YOU feel toward them. It's not preachy, but instead nudges you to question yourself.

In terms of format, it's just perfect for our times! For me, with my entire life being online, I want something that I can navigate myself so that I can read what interests me at that moment, and I also want what I read to be immediately actionable. That's what makes Uncommon Courage so relevant, practical and fun to read. Each chapter stands alone as a 2-4-page story, and most chapters are followed by a simple worksheet with questions that guide you.

It's the kind of book you can leave on the kitchen counter or in bed, so that you can open it up, choose the chapter that interests you at that moment, read it, and then think through, write about or discuss your answers to the worksheet questions. I've done this with other people, and it has sparked lively discussions about the stuff that already matters to us.

Uncommon Courage is ideal for any individual, family, teacher, leader or group wanting to play a greater role in creating a better world.
My beach/mediation times are my absolute sacred times. Me, myself and the greater powers are all I need.

These times help me restore my soul when its feeling beaten and broken.

Recently I have been taking my friends book Uncommon Courage with me to the beach, I am now at the stage where I never want this book to end, so I am sloooooowely reading it, only allowing myself one chapter at a time, so that I can truly absorb everything that I have read.

I do believe we all read a book when it's the right time to read a book. I am so ready for this book! There are constant reminders in there, things we know, but forget to put into practice in our everyday lives.

So if you pass me on the beach, reading this book, sometimes you will find me crying, sometimes just a silent giggle, but sometimes I unashamedly burst out laughing pretty loud. Please don't be alarmed, I have not gone mad, it's just such a darn good book that you actually feel yourself living inside each page, as if Andrea is actually talking to you personally. And if you have never met Andrea before, after this book, you will have met her soul.
Do you have the courage to change your mind or are you holding to your opinions no matter what?

When General Dayan who was the late Chief of General Staff then minister of defence of Israel during the six days wars, was challenged by the press, why he voted to give Sinai back to Egypt as a part of the peace accords after he swore he'd never give it back even for peace. He answered: "𝗢𝗻𝗹𝘆 𝗮 𝗱𝗼𝗻𝗸𝗲𝘆 𝗱𝗼𝗲𝘀 𝗻𝗼𝘁 𝗰𝗵𝗮𝗻𝗴𝗲 𝗶𝘁𝘀 𝗺𝗶𝗻𝗱." It took more courage to admit that he was wrong and doing the right thing to win peace and end decades of wars between the countries.

In the past three years, my co-author Daniel Lee and I have interviewed hundreds of leaders in 37 countries for the book First Time Leadership. Our model evolved 7 times. At the core of the model is "Self-Awareness". Common traits of great leaders are their ability to be aware that they are not always right. To be open-minded learners and not be locked by opinions.

In the first chapter of her bestselling book 𝐔𝐧𝐜𝐨𝐦𝐦𝐨𝐧 𝐂𝐨𝐮𝐫𝐚𝐠𝐞, called "Get out of your life", the author, change agent, provocateur, passionate communicator, and social leader Andrea T. Edwards, shares that the first attribute of courage in Self-Empowerment is to be open minded. Let go your walls, biases and judgment. To resist the temptation to think that we are always right and be an avid learner. Get out of your comfort zone and travel to places where people think and do things differently.

I highly recommend this book because I did not like it. 𝗜 𝗹𝗼𝘃𝗲𝗱 𝗶𝘁.
This appreciation post is pending too longggg…
Big hugs to Andrea Edwards for sending this over to me last year.
I was excited receiving this book, as I have been in her Facebook 'Uncommon Courage' for a while and love her sharing's there. But the reality hit after getting the book.
Don't get me wrong, all is well with the book. In fact the book is a huge bundle of wisdom for me. What I thought would be a breeze to read (I love to read and I'm always reading something), this book stopped me in my tracks.
Andrea shares many stories in this book, and while some are funny and some inspiring, many really hit me at the depth of my soul. So many things to reflect on about life, issues and challenges around us. Things that we may consciously know, some we are unconscious its happening around us.
Some of the reflective questions brought tears to my eyes while I tried to answer them or seek the answers within me.
So yeah, enough with my drama, but really, this book is an amazing one and worth every cent of your investment. Pick up this book, read from cover to cover, or just randomly open and read any topic.
Andrea has categorised them into :
Self-awareness

Self-empowerment

Empower others

External influence

Social leadership

Career thoughts

Climate courage
And my personal favourite is the first three categories - not that the others are not awesome! But if I had to pick what moved me, it was these three.

Andrea, thank you again for the lovely gift of this book. It certainly made me look at 2022 with gusto and looking forward to breaking my own demons and battles. Hugssss 😘😘
A super powered dose of positivity, hope and courage in this incredible book #UncommonCourage that's written with unfiltered authenticity by Andrea T Edwards - great festive gift if anyone's looking for ideas!

They say beauty is in the eyes of the beholder. So I'll share with uncommon courage how I experienced this book, and yes, this book is truly an experience!

Uncommon Courage is an experience into the world of an unadulterated, yet deeply wise and unique perspective of Andrea, a true gift in our beautiful world.

I loved seeing the world through her eyes, for as I did, above all, I truly got to know with utter rawness who Andrea is as a person more than ever before, and it became a journey of deep admiration.

The book will make you cry, laugh, wonder, ponder, explore, and in the end it shares a living example of how to truly cherish and love yourself for all that you are, are not, and can be. Some parts are unapologetically challenging and it's all these differences that expand our perspectives.

For me, it is a journey into unconditional self-acceptance, self-love, self-expression. It inspired me to be even more than I am, and accept all that I am not. Truly a gift.

I can't imagine anyone who wouldn't get something invaluable for themselves from experiencing Uncommon Courage.🌹
Global COVID-19 shelter-in-place mandates forced many people to reflect on their lives past and present. Some, like author Andrea T. Edwards, captured their thoughts in print.

Uncommon Courage is a collection of Edwards's insights that prompt readers to assess their lives. Such reflection, she writes, is a gift we give not only ourselves but also our loved ones, our communities, and the world at large.

Edwards shares what she learned from 30 years spent as an entrepreneur and working in a corporate setting, combined with her experiences as a wife, mother and friend. She crystallizes these learnings into seven sections. A series of 108 "wisdoms" in all, they are conveyed in brief passages, with topics running the gamut from self-empowerment ("Breath [sic] in love, breath [sic] out hate"), social justice ("Lead with compassion"), career assessment ("What do you really want from your career?") and climate change ("How to deal with eco-anxiety"). Using hashtags for related ideas, she ties her wisdoms together to illustrate the bigger picture that they represent.

Edwards colors within the lines for most of her wisdoms ("Give yourself permission to dream"). But she offers some contrarian advice, too ("Let people be dicks sometimes"). There's also an unusual and arresting section discussing those whose time dealing with struggles to survive poverty, immigration, war zones and other extreme challenges necessarily trumps self-reflection. She knows her book is not for them, and she reminds readers that the act of self-contemplation is truly a luxury for many people around the globe.

The author delivers short, snappy prose, and her good humor will endear readers to her. While many of Edwards's ideas will sound familiar, her fresh voice gives them new life. Eye-catching, comic-book-style graphics complement each wisdom and add to the book's appeal.

Overall, Uncommon Courage a pleasing read with enough variety to appeal to those of varying generations, social strata and sexual and gender orientations.
Andrea T. Edwards's story begins when she travels to Egypt - the first of the many countries she will set foot in. She soon realizes that her travels will take her to people, cultures, and countries filled with wisdom. In this self-help guide, Andrea shares the secrets she has gathered from around the world; secrets that will enable readers to change their perspectives on life and become successful in every aspect. The book covers various topics including climate change, parenting, leadership, empowerment, self-awareness, and anger management. With her traveling experience and a career in B2B communications, Andrea has a lot to offer to those who want to live an efficient and meaningful life.

Uncommon Courage: An Invitation by Andrea T. Edwards gives readers a plethora of useful information that will give them the courage to make changes in their lives and work towards self-improvement and personal development. The book includes 108 interlinked life strategies that readers can consume at their own pace and pause/continue to read without a hitch. It will have a positive impact on readers and ignite their passion for accomplishing whatever they have set their minds to achieve. Andrea T. Edwards's quirkiness and creativity are visible throughout the book, making it a relatable and interesting read. She writes in a tone that is casual, yet compelling and irresistible, offering wisdom garnered through her travels and encounters with history and different cultures.

By the end of each chapter, the readers will have a greater sense of purpose and desire to live their lives to the fullest. This book is not an ordinary self-help book as it includes a mix of topics and practical knowledge required to spike interest and help readers interrogate the way they live. From finding your life partner to the more dreadful issue of the deteriorating environment, Andrea has shared her insights on several different topics that are applicable and relevant to larger audiences. She has given the readers a collective lesson in hope, inspiration, and self-esteem. This is a book that offers a road map to building a life one dreams of; filled with wisdom and insight, it is a gift to receive with gratitude and to pass on with kindness.

Title: Uncommon Courage: An Invitation
Author: Andrea T Edwards
Review: 5/5

"Never be ashamed of the music you love."

Regardless of how successful we are, we are destined to have the moments where we need a little courage and strength from within or from a source outside, be that an inspirational idol, a mentor, a friend or a guru.

I saw an ad for this book on Instagram and I could not stop myself from reading it. I'm more than glad that I completed reading this book though, in the beginning, I was feeling a bit overwhelmed with the author's personal story and huge introduction part of the book.

The book is a collection of 108 wisdom mantras from the author, focussing on seven kinds of wisdom- self-awareness, self-empowerment, empowering others, external Influence, social leadership, career thoughts and climate courage, with the obvious announcement that not everything will work for everyone, the wisdom is to be acquired with what resonates.

As an army musician during her youth, the author travelled solo which enabled her to come out of her comfort zone and led her to learn many lessons in life. The author has jotted down all the life lessons we might find in other self-help books and together they make reading this 480-page book a wholesome experience. Not a book to binge-read, it's a slow and steady process, a few chapters a day, all the way pondering over the strategy shared.