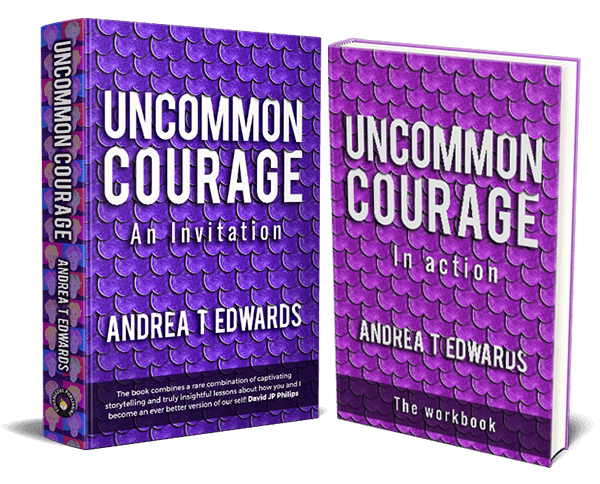 Here's what readers of Uncommon Courage have shared with me - so grateful to everyone who's sending reviews
What readers are saying about Uncommon Courage
Andrea T. Edwards's story begins when she travels to Egypt - the first of the many countries she will set foot in. She soon realizes that her travels will take her to people, cultures, and countries filled with wisdom. In this self-help guide, Andrea shares the secrets she has gathered from around the world; secrets that will enable readers to change their perspectives on life and become successful in every aspect. The book covers various topics including climate change, parenting, leadership, empowerment, self-awareness, and anger management. With her traveling experience and a career in B2B communications, Andrea has a lot to offer to those who want to live an efficient and meaningful life.

Uncommon Courage: An Invitation by Andrea T. Edwards gives readers a plethora of useful information that will give them the courage to make changes in their lives and work towards self-improvement and personal development. The book includes 108 interlinked life strategies that readers can consume at their own pace and pause/continue to read without a hitch. It will have a positive impact on readers and ignite their passion for accomplishing whatever they have set their minds to achieve. Andrea T. Edwards's quirkiness and creativity are visible throughout the book, making it a relatable and interesting read. She writes in a tone that is casual, yet compelling and irresistible, offering wisdom garnered through her travels and encounters with history and different cultures.

By the end of each chapter, the readers will have a greater sense of purpose and desire to live their lives to the fullest. This book is not an ordinary self-help book as it includes a mix of topics and practical knowledge required to spike interest and help readers interrogate the way they live. From finding your life partner to the more dreadful issue of the deteriorating environment, Andrea has shared her insights on several different topics that are applicable and relevant to larger audiences. She has given the readers a collective lesson in hope, inspiration, and self-esteem. This is a book that offers a road map to building a life one dreams of; filled with wisdom and insight, it is a gift to receive with gratitude and to pass on with kindness.

Title: Uncommon Courage: An Invitation
Author: Andrea T Edwards
Review: 5/5

"Never be ashamed of the music you love."

Regardless of how successful we are, we are destined to have the moments where we need a little courage and strength from within or from a source outside, be that an inspirational idol, a mentor, a friend or a guru.

I saw an ad for this book on Instagram and I could not stop myself from reading it. I'm more than glad that I completed reading this book though, in the beginning, I was feeling a bit overwhelmed with the author's personal story and huge introduction part of the book.

The book is a collection of 108 wisdom mantras from the author, focussing on seven kinds of wisdom- self-awareness, self-empowerment, empowering others, external Influence, social leadership, career thoughts and climate courage, with the obvious announcement that not everything will work for everyone, the wisdom is to be acquired with what resonates.

As an army musician during her youth, the author travelled solo which enabled her to come out of her comfort zone and led her to learn many lessons in life. The author has jotted down all the life lessons we might find in other self-help books and together they make reading this 480-page book a wholesome experience. Not a book to binge-read, it's a slow and steady process, a few chapters a day, all the way pondering over the strategy shared.

The chapters for each strategy have effective and short worksheets that help us become a better version of ourselves. Even though the book is big, it's not a difficult read and I finished each chapter slowly to grasp the main message. The language is very easy and pleasing to the mind as if a friend is advising us. Minimal but effective and detailed illustrations add up to the beauty of this marvellous work.

Certainly a book to be read and re-read, I can declare that this is my favourite non-fiction read of all time till now. I've never read anything of this kind. With multiple lessons to learn and grow as a better individual, this book is definitely an underrated gift from the author to the world who's trying to make the world a fairer place and everybody a better human being.
"Uncommon Courage" by Andrea T. Edwards will inspire you to think deeply about yourself, positively impact your emotions, and define what truly matters to you. As a woman who has lived an interesting and influential life, Andrea has great wisdom to pass on to her readers. Whether you're a mother with a child requiring special needs, someone who wants to save the earth, or just find a way to expand your point of view, this book will speak to every part of you, and then some.
The author has an amazing spirit. Her positivity, care, and encouraging voice overwhelmed the pages and made it easy for me to connect with her. Although she doesn't share many of my personal views, I found her to be mostly accepting of other viewpoints and be everything you would want your opposite to be. She promotes open thought, gentle debate, and inspires positive interactions and understanding amongst all peoples. As our world becomes more and more inclined towards censorship and silencing debates, I found most of what she had to say very enlightening, and I wish more people would follow suit with this line of thinking.
I also really enjoyed her approach to self-improvement. While many self-help books will give you a list of things to do, Andrea instead goes right to the source, which is you. How can you move forward if something inside is holding you back? I loved the way she teaches you to analyze your emotions and figure out what is causing the negativity. We all could use this sort of personal analysis, so I applaud her for focusing so much on this neglected area of our lives.
The range of topics she discussed was pleasantly surprising. While some might consider the number of topics she touched on lacking in focus, I found it kept my attention, even if some topics did not really apply to me. One chapter might focus on attracting your perfect life partner (something she has experienced personally), while another may center on the environment, raising children, or how to improve your thoughts with positive thinking. I found the mix of topics relevant and applicable to many types of people.
Nearly every chapter has exercises at the end to help you engage with the topics and achieve personal growth, so people who enjoy homework will not be disappointed. Most of her advice applies to everyone, so I enjoyed the level of inclusivity she achieved. If you're looking for a book that combines advice and wisdom with fun and surprises, look no further. This is a great book for anyone who wants to make themselves a more positive force in their sphere of influence.
An excellent guide with plenty of Why You, How To, and Now Do ideas
The title of this book by Andrea Edwards highlights what makes it special from the beginning. The book opens with an invitation to help readers answer the question "Why You?", then becomes a well-equipped hardware store stocked with beautifully packaged and presented "How To" tools, models, and proven ideas. Finally in chapter after chapter, Andrea calls us to action with compelling "Now Do" advice that encourages, inspires, and enables. Read this book, follow her advice, take the Uncommonly Courageous steps that make a difference for you, for those you serve, for those you care about, and for those you love.
"Time flies when you're having fun. While my youngest plays soccer, I have time to dive back into this gem of a book. Thought provoking, serious, yet funny too, honest and real are my first thoughts. I'm not yet half way through though. Too many goodies I find in here to ponder about. "To me, this is a read not to be rushed, but enjoyed and reflected upon. I can't wait to continue reading! Andrea, thank you for taking your time to write this book, it's such a treat to read. A very special invitation indeed! "By the way...I'm still chuckling about the image I got, imagining you and a fluffy backpack!"
"A few days ago, I received a package from my good friend, Andrea T. Edwards. It was a copy of her new book 'Uncommon Courage'. Reading it is just like talking to Andrea – she writes as she speaks — with honesty, perceptiveness, and authenticity. The book invites self-reflection and forces the reader to think more about what it is to be authentic, while treating others and our environment with respect. Even though, I am only half way through, I have picked up a few tips particularly around self-awareness and self-reflection. Thanks, Andrea! #authenticitymatters"
Topical and refreshingly up to date, Edwards's (18 Steps to an All-Star LinkedIn Profile) latest is ideal for those seeking to make small changes that can have a big impact. In this highly practical self-help guide, crafted as an "invitation" to live with purpose and courage, Edwards coaches readers on personal growth topics such as self-awareness, self-empowerment, and leadership. Her expertise as a world traveler and communication professional, among many other experiences, shines through in her unique spin on somewhat atypical self-improvement content: along with influencing others and one's own empowerment, she addresses issues like how to face and find solutions to the climate crisis. For those readers who want to achieve contentment, tweak their health habits, or find encouragement to keep bettering themselves and the world, Uncommon Courage is accessible and engaging.

The guide is long, but it stays highly digestible, with short chapters that can be consumed while riding down an elevator, taking a break from chasing the kids, or in a more concentrated, meditative manner. That approach seems by design: Edwards' structure allows readers to dip in and out according to their interests or needs. The guidance can be deep or breezily superficial ("buy wine that's at least four years old"); like all good advice, it can even be irksome when she hits the right button and tells a truth you might not yet want to face. The book's busy, with some potentially distracting elements—such as the adages Edwards calls "wisdoms" that relate to another project, unconventional hashtags, and QR codes introduced for further reading—but Edwards takes pains to expose readers to fresh ideas and possibilities beyond the purview of the average self-help book.
As Edwards introduces new habits and mindsets, helpful footnotes suggest opportunities for further research, and workbook pages encourage contemplation of the material. Her style is highly narrative, with dishy anecdotes bursting with practical advice delivered in her funny, straightforward, and entirely supportive fashion.
Takeaway: This wide-ranging, of-the-moment self-help guide urges readers to live with purpose and courage to make a difference.
Great for fans of: Shad Helmstetter's Negative Self-Talk and How to Change It, Jon Gordon and Damon West's The Coffee Bean.
Production grades
Cover: B
Design and typography: B
Illustrations: A-
Editing: A-
Marketing copy: A

"#essentialreading I take pride in saying I've known Andrea T. Edwards for years, close to 10 or so by now I think. It's cool to be in the circle of people who write smart books, right?
"The first thing I remember about Andrea is that she was so helpful, from the moment we got connected. I was working for an upcoming tech company, she was in charge of analyst relations at Microsoft. Could she refer me to some of her contacts? Absolutely, she has never hesitated to help and support, ever. Thinking of a legacy - how do you want to be remembered? Hmm…
"Today, her book - #UncommonCourage - arrived. I said I would happily buy it on Amazon, but no, she sent it over from Phuket. It's in my hands now.
"I started reading it earlier today. Chapter 1: Get Out of Your Life. Similarly to Andrea, I ventured out of my native country (Finland) fairly early, and I can totally relate to what she writes about the potential impact of such a move. But hey, is this book for beginners? Maybe I don't need to read it? Chapter 2: Self-Awareness. Gotcha.
"Nonetheless, I move on with the Chapter 3: Self-Empowerment. What five things would I take along if I was stranded on an island?
"(Only later on do I realise she asked for which FIVE SONGS I would take along to keep me company - just how pre-configured are our minds to actually read what we expect vs. what's actually printed?)
"Nonetheless, I felt that thinking about objects to take along was kind of a fun thing to do. My instant thought was my hubby, but please don't judge me on objectification of men.
"Secondly, I was actually thinking of an instrument, so I'm pretty sure that would have brought me to the favourite songs fairly quickly anyway. So, yeah, I was still complacently thinking, I've got this (no Abba though, please). Do I really need to read yet another self-help book?
"Yet, something kept me reading.
"Chapter 4: Do You Have Voices in Your Head? (Self-awareness) Yes, absolutely - and over the years I've actually learned to listen to them in difficult situations, which has proven quite useful.
"Except when those voices aren't productive at all - when they come with a negative, worrying undertone. Or, when they are judgemental.
"Bang. You caught me. As you suggest, dear Andrea, I decided to take a holiday from worries, for a month. Because, 'Worry is a waste of time' (Chapter 5).
"But it gets even better.
"'Let People Be Dicks Sometimes'. Oh, I'm thinking of someone, very close. This might actually be the best life advice I've ever got. And we're only in Chapter 6 - out of 100+.
"I'm sold. This book might not just save my holiday - another couple of weeks stuck on an island, as a matter of fact - but my very close relationships, my career and all other 'things' I hold dear.
"I shall be reporting back soon, but in the meanwhile - find this remarkable book on Amazon and buy it. Andrea says it as it is - now, listen to that voice. Let people be dicks, sometimes. #withoutbollocks"
"I am so happy that Andrea wrote this book and made the journal to go with it. A shot of #Courage is something even the most courageous person needs every once in a while and #UncommonCourage is not just a book and a journal, every piece of wisdom, every question, every call out and every call to reflection will spur you on - not to do just good for yourself, but use your best bits to create a better tomorrow for others around you too. "If you have not yet got one, do yourself a favour, skip the next meal out and instead, get this book...and just thank yourself later! Yes, It IS THAT GOOD! "Lots of hugs to you Andrea T. Edwards and all those who rallied with you to get this out into the world!! It's doing its work :)"
"'Uncommon Courage - An Invitation' - why you need accept that invitation and read this book:
"It makes you THINK
...and it makes you GROW
"It's a book written by my friend Andrea T Edwards, as we all coped with last year - she wrote. And what a blessing that is.
"I got my copy last week and I ❤️ it - it's a compilation of thoughts, of wisdom from her own life and stories. All very relatable and very Andrea.
"📖This is a book for you and me💕.
"And I've been savouring it , and so I've got four take-aways to share with you already:
"🏆 Aim past the top of the hill ↗️- this one kind of blew my mind. What if you knew your goal, your top of the hill, and aimed past that - to even more? As someone who tends to be conservative in my goal-setting, that's a mind-bender
"🏆 Embrace Social Media - now this is something that doesn't come easy to me. Andrea sees it as a tool, as a means of amplifying what matters to you. A means of changing the world. 🔊 A perspective that is so much more empowering and inspiring.
"🏆 Get out of Your Life - in other words, your comfort zone. Get into others' lives - experience what they experience, notice how they think and view the world - and you will grow. Always good to be reminded of this one.
"And this made me laugh, 🏆Let People be dicks sometimes' - yep! And love them anyways. We're all dicks some of the time! I know I am.
"This is an important book - if you know Andrea, you know that what you see is what you get. That is exactly what this book is - what you see is what you get. No jargon, no high flying concepts - but simple concepts that will change the way you view the world.
"And simple action steps you can take to practice them. (There is a free workbook you can download)
"It makes you THINK. And when you think, you GROW. Thank you so much for writing it Andrea T. Edwards.
Uncommon Courage is a fantastic and inspiring book packed with life lessons, kindness and passion for a better, fairer world. It's an amazing achievement and full of such wise words. Andrea's voice comes through and it is passionate, strong and loving. A life well lived and now well told. I know people will be changed reading this and I'm proud to be your friend.
THANK YOU to Meenakshi Sarup who intuitively gifted me a book of courage, #UncommonCourage by the insightful Andrea T Edwards. It landed yesterday and for some reason, I was prompted to open the book from the back. I opened it to the page Self-Awareness, sharing the three insights of her Grandma Tottie's advice for living, and then #108 Let's show up - Empowering Others. I read to the end of the book, including the Afterword written by her husband. And... I cried, literally tears running down my face, for the lost opportunities I didn't take to be #courageous, the times I stayed small instead of #standinginmypower and challenging those who were triggered by that #courage I know I have inside me. Reading those dozen pages highlighted my delusion in thinking I had been #courageous, with respect there had been times I had, and it was these times and the reactions of others that had me stop taking those big risks. Those life changing moves by listening to my heart and living a #lifeofpurpose. Mostly, I cried for the lack of support and being surrounded by people like Andrea and Meenakshi and I realised, it is because I'm not #livingmybestlife, not #beingmybestself, and until I do, I will not resonate at their same vibrational match. #ThankYou from the bottom of my heart Meenakshi Sarup for this #giftofcatalyst. #DivineTiming as I return to an environment where I am six years playing small for too long. With another birthday looming and a new ten year cycle (numerology) about to begin, #nowisthetime for change. My deepest humility for these ladies and their example 🙏
When choosing to pick a book, make sure you pick a book from a person you think you can really learn from. I think a book is a road into an author's mind. And I have always been fascinated by the mind of Andrea T. Edwards - so I am so happy that she finally wrote the book where we get to get inside her head to access her wisdom. And yes, I used the word wisdom, because Andrea is a wise woman. And brave. And she has an important message and she is not afraid to spell it out. And people like that should be promoted, because they are rare and uncommon.
What a fun and powerful read!! Andrea is a great storyteller, but more importantly, her message calls us to discover what's highest in ourselves and begs the question, what kind of legacy do we want to leave on this planet. As a founder of an NGO, I'm reminded of why I do what I do and encouraged to continue my quest to play a bigger game and make a bigger impact in this world. A great read for anyone ready to step into their courage!
After reading Uncommon Courage, I was keen to activate the ideas Andrea talked about so eloquently in her book. After all, Andrea has always lived bravely in my mind. Over the many years we have known each other, I've never known her to stand idly by waiting for permission to act, or stay silent on issues that were deeply important (or not) to us all. The follow-on workbook is like sitting down and pouring out your heart with a friend you can trust. The book, Uncommon Courage, is a challenge to rise up and be brave in a world driven by fear.
I just finished Uncommon Courage. What great insights and wisdoms!! It's amazing to know you in a deeper way and to learn from you as well. What I enjoyed the most - amongst everything in the book - is your vulnerability. When you shared your motherhood experience and your struggle (not underestimating the other struggles you shared), it made me tear up. Your message at the end to your boys made me tear up too, as if it was directly speaking to me. "It was one of the great resources at the right time to gain my self-esteem back. These last few years have been very challenging for everyone and I have been really miserable. So it was the right resource at the right time, and it really gave me the chance to reflect back on myself before I start my third year in college. So thank you for your words and I am humbly grateful to know you in person, but equally, through this book, I know you more.
"Passionate. Inspirational. Powerful. This incredible compilation of stories and insights is down-to-earth, engaging and helps us play our part in the world. This is a great read that will inspire everyone to become a better human and make the world a better place."
"I started reading thinking, 'Oh I've probably heard all this before,' and yet once I began, I couldn't put the book down. Time and time again, Uncommon Courage nails it. You can't avoid thinking, laughing, even shouting out loud as you read this book."
"As an amateur and professional performing musician spanning 20 years to serial social media conversationalist who's achieved guru status among her loyal "tribe", Andrea's life journey takes us through the streets of Calcutta where she meets Mother Teresa to being chased, robbed and nurtured in some of the most dangerous countries on the planet—to learning unconditionally how to say YES. Uncommon Courage is nothing short of epic. A feverish read to say the least."
"Filled with inspirational stories and provocative questions, this book takes you on a journey of self-discovery. Through entering Andrea's world, you enter yours; not only to re-evaluate what you believe and why, but to have self-compassion and the courage to embrace change, act with kindness and step into committed action."
"This book is a humorous and evocative treasure trove of insights on how to live your best life—minus the 'woo-woo'. It is akin to having a wise, non-judgmental friend help you dig a little deeper into the how and the why of who you are and where you are heading. This is the book to buy for everyone in your life who is oozing promise and potential and just needs a nudge to tap into their own #UncommonCourage."
"When you learn from osmosis, it lasts longer! The trials, experiments and playing with fire: a journey traveled vicariously and a partner who shows how to care. Care, for yourself, others around you, and the earth that we live in. Uncommon courage spurs us to keep our naivety in the right place and work towards creating a better world, within and without. A book that I can go to every time I feel a little nudge, to show a bit of courage."
"Andrea always had the single-minded desire to live her very best life. To be more than was expected of her and to experience more of life than most of us could ever believe possible. She had the courage to break free from the comfort and routine of her upbringing, the courage to live her best authentic life, and now, the courage to share her stories, warts and all. A great set of wisdoms for readers of all ages and stages."
"Uncommon Courage peels away at questions of how to live with purpose and courage in today's world like layers of an onion. Through loving, curious attention to the world around her, Andrea takes you deep within. When you take this journey with her, you'll explore your mindset, your ideas, and how they all got inside you in the first place. This is a path of recognizing and embracing opportunities, of seizing your moments. Allow Uncommon Courage to be your invitation to have the courage to step into all you aspire to be. I am delighted to have written the foreword for this transformative book."
"I love this book. Andrea has experienced a lot - good and bad – and I love how she draws on these experiences to explain how she reflects, always with the aim to become the best version she can be for the sake of herself, her community and the planet. She does this while inviting the reader to think and reflect on their versions of their life and how they might consider doing the same. It is a great read and a great exercise on reflection."
"The book combines a rare combination of captivating storytelling and truly insightful lessons about how you and I become an ever better version of our self! My favorite takeaways were the simplifications of the complex and the honesty which so often is replaced with a facade these days."
"In this book, Andrea Edwards honestly and openly shares with us her inner journey as she has traveled the world and faced the complexities of relationships, parenting, business and social media. Andrea has developed the self-awareness to catch her inner narrative and possesses the clear communication skills for us to witness the evolution of her identity. This is not a quick-fix self-help book, but rather travel guide from which you can pick up 'useful-tips', plan some 'must sees', and avoid being 'ripped-off' at the market. Finding meaning and purpose can be elusive, but as you read this book you will be inspired by one woman's life that is full of purpose. Uncommon, uncompromising and sometimes, uncomfortable purpose."
"Reading Uncommon Courage is like going to a dinner party and being seated with an experienced CEO, a spiritual guru and a wise old grandma. While they say you have to learn your own lessons, with this book you might just graduate 'the school of a beautiful life' with more magical moments and fewer scars."
"Andrea brings herself straight from the heart fully into the world—wisdom, courage, and love. This book is food for the unsettled heart to find peace, for the discouraged heart to stir with hope again, and for the love in our hearts to flow from ourselves to the world."
"When I read Uncommon Courage I felt like I was pealing an onion—so many layers, so SO inspirational. I love this book and Andrea because she makes me want to be a better person, for myself and for Mother Earth! This booked helped me with a few of my demons, helped me with compassion, as well as showing compassion for people that I feel do not deserve forgiveness – but it's not for them, it's for me. Always the key message. Definitely a must-read in today's crazy world. It will shift how you think, live and love."
"In an inspiration-filled package of valuable nuggets of evergreen wisdom and recipes on how you can lead a happy life true to yourself while also making a positive impact on others. Her keen insights build upon her personal and professional experiences in her lifelong and curiosity-driven quest to find her purpose. While Ms. Edwards does not shy away from the challenges presented by social media, her message is ultimately one of hope in that a more constructive online discourse can be found if more of us find the courage to speak our minds and help others."
"Written as a journey of self-discovery, the life lessons come from the love of travel, a deep curiosity about life and the world, and passion for humanity and the environment. This is no ordinary book, it's an adventure with an invitation to growth and self-acceptance."
"As a partner in her case study (and life) and as someone who's sat beside her through the angst and excitement of creating Uncommon Courage, I want the world to know this book can transform your life. As Andrea's husband, you might think I am biased writing this, but the truth is, her ideas have helped and continue to help me conquer so many of my own demons. When people have asked me about this book I have had the same gut reaction since first discussing it with my clever wife — Uncommon Courage is unfettered access to the knowledge gleaned by a normal person from ordinary beginnings who's lived an extraordinary life — all of her own making."
"I challenge you to come away from this book without being changed in how you see yourself and the world around you. Accept Andrea's invitation to find your own truth to guide you forward."
"This goes deep into the human heart. Written with genuine rawness, it had me engaged start to finish. I found myself constantly reflecting on my own self-discovery, while feeling enlightened to continue to embrace my journey to self-love and internal abundance."
"Need a little more courage? Read Uncommon Courage. Andrea takes you step-by-step through her extraordinary AND ordinary moments that create turning points. The experience, research and insights raise our awareness of the difference we can all make as we continue to learn, listen and take action. Whether we take small or radical steps, we can all create significant and positive change in our world."
"Uncommon Courage — wisdom from a woman wise beyond her years — will compel you to find what is meaningful to you and spur you on the journey to living an impactful life. A must read for anyone who wants to create a better world around them."
"Using very personal insights this book brings you practical everyday tips for a better life, more courage and even approaches to solutions for global issues. It's a plea for more civil courage and personal development."
"I feel like I'm sitting around a bonfire when I read Andrea T Edwards' reflective, raw, grounded and highly enlightening new book Uncommon Courage. Andrea's stories beg me and, I believe, you, to go inside and focus on what is truly important, while getting rid of the 'noise' that surrounds us all, often stopping our true voice in this world. So, grab her book, light a fire if you can, and settle in for a great journey full of surprises, wisdom and courage. Uncommon Courage rocks!"
"Uncommon Courage is unconventional, unapologetic and undoubtedly a gem that everyone must read. Combining real-life stories with powerful questions, this book makes you stop, reflect and want to take action towards being the person you want to be. So, if you're feeling stuck, grab this book, dig deep and go be magnificent!"
"Good books are meant to be read and then re-read; Uncommon Courage falls slap bang into this select list, it's a keeper. Full of wise and humane anecdotes, woven into a rich tapestry of plain and simple life lessons, this is one of those addictive can't-put-down-read-through-in-no-time gems."
Andrea—by showing up with such transparency about who you are, your life journey, and the things that are important, you are lighting the pathway of courage. This book radiates your belief in human possibility in a way that's rare and powerful."