"If you're wrestling with the question: What can I do to contribute to alleviating the climate crisis? We have good news. The answer is: a lot."
This blog is an adaptation of the podcast Uncommon Courage, which is hosted conversations, created by author, speaker and The Digital Conversationalist, Andrea T. Edwards. Uncommon Courage features an array of guests each week and focuses on how we can come together to create the future we want for humanity.
If you prefer to listen, this podcast can be found here on Apple, and here on Spotify, plus where all podcasts are published.
If you're wrestling with the question: "What can I do to contribute to alleviating the climate crisis?" We have good news. The answer is—a lot. In fact, there's so much we can do, this series of blogs will help you decide on the contribution you can make, and is packed with fast facts and actionable advice.
Spoiler alert: The thesis of this series is that if the vast majority of us—meaning you, your family, friends and neighbours—do some very basic things better, we can make a huge difference.
Contributing to this post is a team of four passionate planet protectors. Susanna Hasenoehrl, better known as The Sustainability Speaker, who helps corporate leaders identify sustainability risks and realise opportunities to future-proof business amidst imminent ESG-challenges. Michelle Mouille, Founder of Sustainable Maikhao Foundation, has a long history of supporting green initiatives on the idyllic island of Phuket. Tim Wade is a motivational and business growth speaker who helps clients lead change, motivate staff, and develop leadership capability. And Andrea Edwards the author of Uncommon Courage and an evangelist for social leadership, content strategy, and employee advocacy through her brand The Digital Conversationalist.
Together, the fab four came up with 22 Lifestyle Changes we can all make to contribute to a better world. So, if you only do ONE thing, make it the fact that you share this list!
In our first installment we focus on something we all hold dear—food and coffee—in particular, we'll investigate what we consume, from where, and how we get rid of it.
Here are some fast facts if you need a compelling reason to keep reading:
1/3 of all food globally is wasted. That's enough food to feed every single person on this planet
If food waste was a country, it would be the third largest emitter of greenhouse gas after the US and China
If we reduce food waste, it will prevent 7.41 million tons of greenhouse gas emissions every year—a reduction of 6 to 8% of the total greenhouse gas emissions
Food is one of our favorite topics so we're starting with Tip #1 from Susanna, which is to encourage everyone to try a new vegetarian meal. If you're struggling to figure out how to forgo a meat-based diet, you can start by looking at Indian or Thai cuisine, which offers loads of vegetarian options and/or easy adaptations (chickpeas, for instance, make a great substitute for chicken). If that's not your thing, try an alternative protein, like an Impossible Burger or Beyond Burger. These are delicious ways to make a difference. Don't want to take our word for it? Here's some additional research on the benefits of going meatless.
Tip #2 is a simple fridge hack from Tim—create a "must be eaten soon" drawer by simply placing a container in a highly visible spot in the fridge. Each day, fill it with anything that is close to expiring and aim to use it the next time you think, "what can we make tonight?" Tim explains, "It's all about making it visual, right in front of you and easy to grab. Let's be honest, the veggies that stay down in the actual veggie drawer tend to get thrown out in some disgusting water form."
Speaking about water, let's address our favourite use for water: Coffee! Tip #4 from Susanna is about making your choice at the moment of consumption. If your favourite coffee shop is still serving coffee in disposable cups, make sure that you are clear at the moment you order that you would like your coffee served in a proper mug. We all know if we let that moment pass, it won't happen and you'll be stuck with that disposable cup. If you happen to be having coffee with a friend, take advantage of this request by making it an environmental conversation starter. And if the shop doesn't have an environmentally friendly option, politely cancel your order and go to a different shop (that will really get the conversation started). But be sure to tell them why you are leaving and then follow up by sending your feedback to the management. If you're desperate for your cuppa joe, bring your own mug along with you just in case.
For those us who can't even make it to the shop without first having a coffee at home, Tip #5 from Andrea is about making a commitment to only buy coffee machines that use beans or powder—no more coffee pods. Single-use coffee pods have created a waste explosion all around the world. While companies like Nespresso are working to make the process more sustainable, the bulk of the effort still remains on the shoulders of consumers, usually requiring us to send the pods back by post, which also creates emissions, so it's not an ideal solution. Once you have a green coffee machine, buy big bags of beans to reduce packaging or go to a place where you can buy coffee using your own container.
Then roll right into Tip #6 and put your coffee waste in your garden, or set up a community coffee waste collection point if you're living in a housing or apartment complex. If you're an owner in a strip of restaurants, why not have a coffee collection for the entire community? If you're a coffee shop, take a page out of Kith Coffee Singapore's book and package up your grounds in paper bags and give them away for people to use in their gardens. It's great for the planet and it's good PR. Once the collection is established, partner with local groups, gardens, or organic farmers, and set up a system to ensure coffee waste gets sent where it's most usable.
There is a great example of using coffee pulp for regeneration in Costa Rica, where wasted coffee was put on degraded lands, the land saw rapid regeneration within two years. In fact, 80% of the lands which received the coffee pulp had canopy cover in two years compared to just 20% on the control plot. And the coffee-fed canopy was also four times taller than the control plot. The research is ongoing, but if we start getting the waste from coffee onto degraded land on a global scale—through our collective power of restaurants and individuals—we could make a huge impact on reforestation – something we desperately need to do.
On the topic of waste: not wasting food can save lives. Tragically and unacceptably, one-third of all food is wasted. That's enough food to feed every single person on this planet. So, Tip #7 is to learn to love your rot. Loving your rot is an expression that Andrea first heard from Michelle and together, along with some insights from Susanna, they have this advice: make sure you dispose of food waste properly, and understand what really happens to the waste we create. Is it going into a landfill or an incinerator? Can it be composted?
As food waste breaks down in landfills it's releasing methane, which is 28 times more powerful than CO2 over 100 years and 80 times more potent over 20 years. This is why we need to love our rot. If you're in a house, get yourself a composter and start making it part of how you live as a family. If you're in a villa or an apartment complex, get together as a community and invest in a joint composting solution. If all the restaurant businesses and farms agree to compost, the compost that is created can be used in home gardens, public gardens, and forests.
Worried about space? Budget? There are so many different composters available, from the small apartment-sized ones (that don't smell) to the barrel-style that can be spun, all the way through to more high tech solutions. It doesn't have to be an expensive solution. Michelle has a handmade composter from the local university and a bunch of chickens to do the job. The most important thing is that it doesn't go into landfill.
Composting also helps to reduce emissions elsewhere. Without it, we need to produce more fertilizer, and that fertilizer is moving around the globe. We also have to factor in emissions from fertilizer application. The more organic waste we can work back into the soil, the less chemicals are required.
Here's another way of looking at it from Andrea, if you aren't already hunting Google for composters: "If food waste was a country, it would be the third largest emitter after the US and China. And it's not just the food, it's the energy to grow the food, package it, and then transport and distribute it. When anything goes to landfill uneaten like ugly food or food that goes off at the grocer before we buy it, all that energy is wasted. If we reduce food waste, it will prevent 7.41 million tons of greenhouse gas emissions every year— a reduction of 6 to 8% of the total greenhouse gas emissions. That's massive."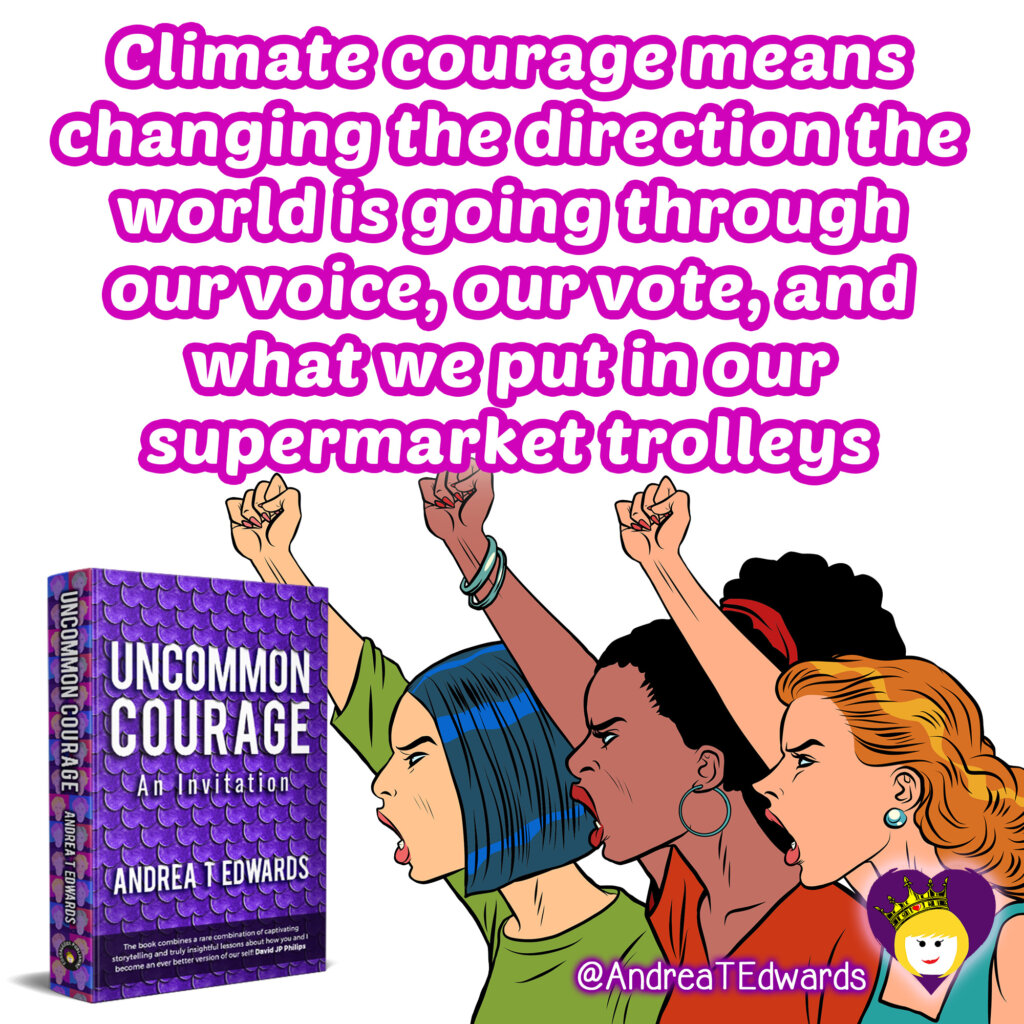 Together we can do this, and here's how…
Tip #8, reduce our personal food waste. In addition to Tim's soon-to-expire drawer, Andrea reminds us that a little meal planning goes a long way. Decide what you're having and make a list rather than just blindly buying your regular items. Check the fridge first to see if you're actually using everything. Use up your leftovers (keep them in those takeaway containers you're now going to clean and save) and freeze the food in your fridge before it goes off. The highest emissions come from meat (red meat especially) and fish, so making sure that there's no animal protein waste is critical. And don't go shopping hungry!
If food waste is unavoidable, try collective Tip #9 and work with a food rescue organization. One such example in Thailand and Indonesia is an NGO called Scholars of Sustenance (SOS). SOS partners with schools, hotels, grocery stores and restaurants to take surplus food and redistribute it to people in need. They also have SOS kitchens where they can take excess and turn it into meals. Even more amazing is the fact they provide the containers for collection, so there's almost zero waste. In Singapore food rescue is also happening through organizations like Divert for Second Life, the food bank, and B1G1.com. Look in your local community and find your food rescuers. They are doing amazing work.
Tip #10 is Michelle's gentle reminder to please clean your recyclables! Not only do we need to separate our rubbish, we need to clean them too. Rinse your milk cartons, milk bottles, and wine bottles—anything with residue—so they don't attract rodents, pests, and whatnot.
Tied directly to that is Tip #11 from Tim: make recycling easy to do. In his second kitchen hack, Tim suggests getting a wheelie rubbish bin with a pop-up lid for recycling and keeping it as close to your sink as possible. The hope is that staring at that bin gives you an extra push to wash rubbish out and recycle it instead of tossing it in the trash. For apartment dwellers, those wheels are a must so it can be wheeled right outside and dumped into the apartment's industrial recycling bin. Make it as easy as possible to build new habits.
If you've read this far, then we hope you decide to latch onto at least one of these ideas and give it a bash this week. If you do, let us know how it goes. We'll be back next week with another installment on what to do with ALL THAT PLASTIC!
Cheers
Andrea, Michelle, Susanna and Tim.
Uncommon Courage – my new book – is available
You can buy it on Amazon, Apple Books, Barnes & Noble, Book Depository, Booktopia, Smashwords, Kobo, Gardners, Odilo and Scribd.
Do check out my new Website uncommon-courage.com.
Come and join the conversation in my new Facebook Group Uncommon Courage.
Connect with me
Website, LinkedIn, Twitter, Facebook, YouTube, Instagram, Medium, SlideShare, Amazon.
The Know show
Check out The Know Show. It's new and a weekly wrap up of the news!
18 Steps to an All-Star LinkedIn Profile
Listed by Book Authority in the 100 Best LinkedIn Books of All Time and 22 Best New LinkedIn eBooks To Read In 2021 categories. Grab it today if you want to take your professional presence to the next level! When it comes to LinkedIn, it really is time to ask — can you really afford not to have this book in the hands of every employee?
Feedback
Have I done a great job for you? Can you write a reference on my LinkedIn profile or on my Google Business page? If not for me, why not write one for someone else who inspires you or has helped you? Join the #GivingEconomy
Check out Second Nature Social on my YouTube channel.
Want proof social leadership transforms business and attracts customers? Check out this case study with IBM Asia Pacific.