Career Thoughts
NOT EVERYBODY IS IN A POSITION to give you meaningful advice. Why would they? Everyone comes at life from very different perspectives, experiences and expectations.
Which is why trusting your own counsel is a strength, not a weakness or an arrogance. You take input and advice from those around you and then you draw your own conclusions, based on your knowledge, your experience, and your insights.
You have your own perspective that the data of life has given you, while taking into account the viewpoints of people around you. Be focused and particular in choosing trusted people to ask. Make sure they are aligned to your values, to your level of courage, and to you as a human being.
When I was young, advice was freely provided by the adults in my life. Being very stubborn, I often followed my own plan anyway. What I found was that, flying in the face of the advice I was given, I would excel or I would fail—but both taught me valuable lessons that helped me to grow.
I started to understand that the advice was coming from their perspective, which wasn't always relevant to my own. I also remarked that people who were not capable of being courageous in their own lives regularly projected their fears onto me.
Taking other people's fears onboard is the number one thing that will hold you back and make you less courageous. Being sure in yourself and what you want in life is key if you want to get to the point of trusting your own counsel.
In my 30s I was offered coaching by a senior executive who wanted to help me reach the executive ranks of a global corporation.
I politely declined the offer. When I was younger, this would have been a dream for me, but by this point in my life, I realized that corporate politics and game-playing would never be my thing. I knew myself well enough to know that this was not my path. I had learned to trust my own counsel early.
Advice is only relevant when it comes from people in alignment with you. While we may and should go outside for advice, real strength comes from building the confidence to trust above all in your own counsel, your own wisdom within.
Here's an aside that will resonate with any woman who has ever been pregnant. When you are pregnant, everyone wants to give you advice whether you ask for it or not. Some of the unsolicited advice can be frightening and impact your ability to enjoy your pregnancy. Pro tip, if strangers ask you if it's your first pregnancy, tell them it's your tenth. No one will give you random advice then.
Into action
Am I strong in trusting my own counsel?
When have I taken advice that was not aligned with my own counsel?
Why did I listen to this advice? (Think deeply on that.)
Did I do something differently in life or work because I did listen?
Is it too late to change direction, back into alignment with my own counsel? (Hint, it's never too late.)
What kind of advice am I seeking right now?
Who is aligned to me and can help me on my way?
If I were a friend coming to me for advice, how would I advise myself?
Do you trust in your own counsel? Or have you been knocked off your path unintentionally? Is it time to get back on it? Leave a comment. I'd love to know.
Cheers
Andrea
Uncommon Courage: an invitation – my latest book
You can buy it on Amazon, Apple Books, Barnes & Noble, Book Depository, Booktopia, Smashwords, Kobo, Gardners, Odilo, Indie Bound, BookShop by BookTrib and Scribd.
Better yet, order it from your local bookstore, so you can #SupportLocal.
You can read the reviews, including a new five-star review on Book Commentary, another five-star review on ReaderViews, a review on BookTrib, and three more on Booklife, another on Book Commentary and Blue Ink Reviews. I'm also collating reviews on my Website too. Have a look and grateful to everyone who has written or recorded one.
Come and join the conversation in my new Facebook Group Uncommon Courage.
Uncommon Courage, the podcast – Apple, Spotify and everywhere podcasts are published.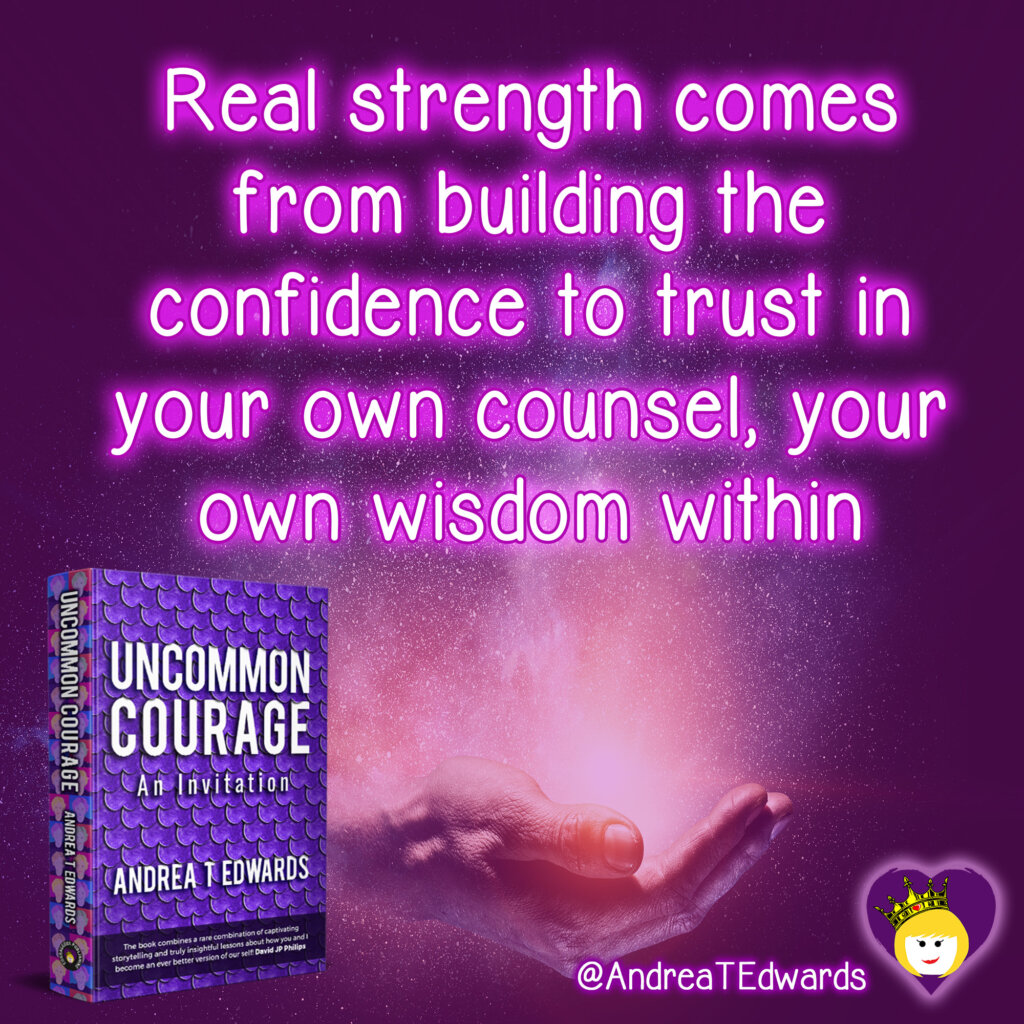 The Know Show
Check out The Know Show. It's a weekly wrap up of the news!
Listed by Book Authority in the 100 Best LinkedIn Books of All Time and 22 Best New LinkedIn eBooks To Read In 2021 and 2022 categories. Grab it today if you want to take your professional presence to the next level! When it comes to LinkedIn, it really is time to ask — can you really afford not to have this book in the hands of every employee?
Connect with Andrea
andreatedwards.com , uncommon-courage.com
LinkedIn, Twitter, Facebook, YouTube, Instagram, Medium, Amazon.
Feedback
Have I done a great job for you? Can you write a reference on my LinkedIn profile or on my Google Business page? If not for me, why not write one for someone else who inspires you or has helped you? Join the #GivingEconomy.
Are you a Social CEO? The Social CEO: How Social Media Can Make You A Stronger Leader.
Want to claim your stage? Unleash Your Voice – Powerful Public Speaking for Every Woman